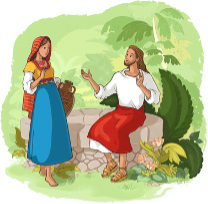 "In the mean while his disciples prayed him, saying, Master, eat.  But he said unto them, I have meat to eat that ye know not of.  Therefore said the disciples one to another, Hath any man brought him ought to eat?  Jesus saith unto them, My meat is to do the will of him that sent me, and to finish his work."
John 4:31 – 34
Feasting on God's Word
As Baptists, we are known for our hearty appetites. We love to eat & fellowship. As Jesus travelled to Galilee, he had to go through Samaria. The disciples left Jesus at a well while they went to get him food. It was here that Jesus had His encounter with the Samaritan woman. Jesus told the woman what he already knew about her & that whoever drank of the water He offered would never thirst again. Ater the woman excitedly left to share with others about Jesus, the disciples returned with food for Jesus. Jesus tells them He has food to eat which they don't know about. They asked if someone else had brought Him food. Jesus told them, "My meat is to do the will of him that sent me and to finish his work." Jesus had one goal – to finish the work of His Father. While we depend on literal food to sustain, energize & enable us to live, Jesus depended on His Father to sustain & energize Him to face what lay before Him. Jesus knew the task set before Him & knew that He would need more than meat & potatoes. We, too, need more than just meat & potatoes to sustain us. We need Jesus in every aspect of our lives to lead, guide & protect us from the influences of the world we live in. One day soon when Jesus returns to take us home, let Him find us feasting on God's word.
We Rely On Your Support
We invite you to partner with us and support music evangelism, not just here but around the world. The easiest way to support Bruce Sechrest's music is through ordering a CD, USB, or digital download of the album.