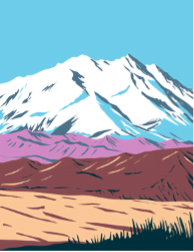 "As the mountains are round about Jerusalem, so the Lord is round about his people from henceforth even forever."
          Psalm 125:2
Finding Rest at the Top of the Mountain
Mt. McKinley (now Mt. Denali) in Alaska, is the largest mountain in North America & is 133 miles from Anchorage as the crow flies. If you drive there from Anchorage, it is 241 miles. On a clear day, you can see Mt. Denali from Anchorage. Did you realize that every time the bible says Jesus prayed, He went to the top of the mountain? Moses met God at the top of a mountain. God was with Abraham when he took Isaac to the top of the mountain to sacrifice him. Noah's ark came to rest on the top of mountain. We are never so close to God than when we are on the top of the mountain. Rest assured though, when we are in the valley, you will find Him there, too. When it seems we are at our lowest, all we desire to see is the top. When we are at the top, that is where we find rest. Even Jesus had to travel through valleys in His walk here on earth and yet, He knew where to find rest. Jesus went to the mountaintop. God is "round about his people henceforth even forever." As large as Mt. Denali is, it will never be as large or as great as our God.
We Rely On Your Support
We invite you to partner with us and support music evangelism, not just here but around the world. The easiest way to support Bruce Sechrest's music is through ordering a CD, USB, or digital download of the album.