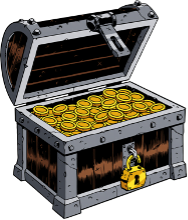 "And wisdom and knowledge shall be the stability of thy times, and strength of salvation: the fear of the Lord is his treasure."
Isaiah 33:6
Lost Treasures
Today, people put so much emphasis on personal treasures they have – the home, the car, the job, the money, prestige, social status and personal achievement. Many times I have seen individuals who place all their value on these personal treasures and they lose sight of what true treasures really are. The most important is to have a personal relationship with God. No amount of money can purchase this and, anymore, it has become a rarity.
The bible tells us that God seeks us – we are the jewel lost at sea being moved by the world's tide but God still seeks you. When He finds you, He says, "Come." All we have to do is go. The treasures of God far outweigh what the world has to offer. In Him there is peace, comfort, joy and fulfillment. In God, our treasures are yet to be seen and our mind cannot imagine the depth, the width and the love waiting for us in heaven. So, where are your treasures?
We Rely On Your Support
We invite you to partner with us and support music evangelism, not just here but around the world. The easiest way to support Bruce Sechrest's music is through ordering a CD, USB, or digital download of the album.