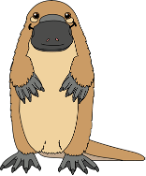 "But ye are a chosen generation, a royal priesthood, a holy nation, a peculiar people; that ye should show forth the praises of him who hath called you out of darkness into his marvelous light: Which in time past were not a people, but are now the people of God: which had not obtained mercy, but now have obtained mercy."
1 Peter 2:9 – 10
Peculiar People
A platypus is a mammal that has the bill of a duck, webbed feet like a duck, this fur like an otter and a tail like a beaver. It also has spurs on its hind legs that injects painful venom. Unlike other mammals that seek their food in water, a platypus uses its bill to dig for its food in the mud. Its characteristics make it peculiar. As Christians, we, too, are peculiar. We have become a peculiar people to the world as we are in this world but we are not of this world. "In time past. . ." we were not the people of God but with the death and resurrection of Jesus, we were made heirs by faith. Reading the words written by Peter again made me realize how blessed we truly are. We are not only set apart but each of us were hand-picked by God. You are someone chosen for a purpose, someone who has fallen and gotten back up, someone who stands strong in the storm, someone whose faith witnesses to others, someone with compassion, love, humility, and grace. You are special to God, not just because He loves you, but because of how much you love Him. I thank you, Father, for these amazing people for they are my brothers and sisters through your Son, Jesus. In 1 Peter 1:4, it tells us that our inheritance is "incorruptible, and undefiled, and that fadeth not away, reserved in heaven for you. Who are kept by the power of God through faith unto salvation ready to be revealed in the last time." God's kingdom is reserved for these peculiar people. Are you peculiar?
We Rely On Your Support
We invite you to partner with us and support music evangelism, not just here but around the world. The easiest way to support Bruce Sechrest's music is through ordering a CD, USB, or digital download of the album.