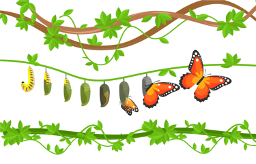 "Therefore if any man be in Christ, he is a new creature: old things are passed away; behold, all things are become new."
2 Corinthians 5:17
Transformation Through God
When spring arrives, with it comes regeneration. The leaves begin to bud, flowers bloom and it seems everything becomes new. During the winter months, a caterpillar that has matured into adulthood spins itself inside a silk cocoon that protects it and in spring, emerges as a beautiful butterfly. Just like the caterpillar that emerges as a butterfly, when a person accepts Christ as their Lord and Savior they are transformed. They become a new creature. Gone is the past – gone are all the mistakes, all the failures and all our sins. In Christ we begin to find out who and what God intended us to be. God becomes our cocoon if we allow Him. While we are wrapped in His love, grace and mercy, He begins to transform us from the inside out. When He is finished, we become a beautiful creation He uses to help transform others. Allow God to enfold you and prepare you for His Kingdom purposes so in Heaven, you, too, can see the beautiful creation you are in Him. You are fearfully and wonderfully made.
We Rely On Your Support
We invite you to partner with us and support music evangelism, not just here but around the world. The easiest way to support Bruce Sechrest's music is through ordering a CD, USB, or digital download of the album.